Urumqi unrest: China's savvier media strategy
Taking a cue from Western PR tactics, Beijing moved away from trying to block coverage altogether – and was benefited by doing so.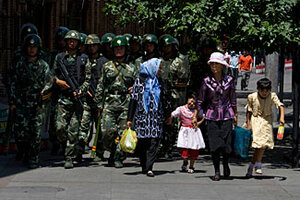 Ng Han Guan/AP
Chinese riot police arrested several Uighurs Friday after breaking up a small demonstration in Urumqi, the capital of China's western Xinjiang Province and the scene of a riot Sunday that killed 156 people and injured more than 1,000.
Authorities arranged extra bus services out of Urumqi after China's worst ethnic violence in decades, but demand outstripped supply Friday as thousands of people poured into bus and train stations to flee the violence-wracked city.
Still, Chinese police this week succeeded in averting a major interethnic bloodbath after initially failing to control Sunday's riot.
Similarly, on the Internet, over the airwaves, and in the written media, Chinese propaganda officials utilized new and more sophisticated tactics to overcome early impressions that the authorities were to blame for the carnage and to paint a more nuanced picture.
"Officials are certainly studying the media-management techniques that are practiced elsewhere in the world," says Rebecca Mackinnon, an expert on the Chinese media at Hong Kong University. "And they actually don't work too badly."
A combination of censoring the Internet, providing Chinese readers with a wealth of reportage (however one-sided), and allowing foreign reporters to work on the ground represents a new Chinese model for handling the media, says Ms. Mackinnon.
"We've moved out of the realm of trying to control everything," she says, "and into a more subtle realm of manipulation and spin."
---