Japan's embattled ruling party sets date for election
The Aug. 30 vote could end its nearly uninterrupted half century in power.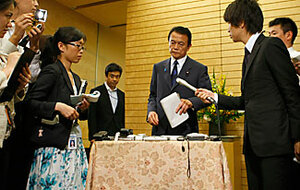 Issei Kato/AP
Japan's beleaguered Prime Minister Taro Aso set a long-anticipated date Monday for a general election that could end his Liberal Democratic Party's (LDP) nearly uninterrupted half-century in power.
The election, scheduled for Aug. 30, could put the opposition Democratic Party of Japan (DPJ) in a position to win a majority in the lower house of parliament and fill the position of prime minister.
Speculation had been swirling over when Mr. Aso would call an election since he took office in last September. He was required to call elections by October.
"I want to seek the public's mandate by dissolving the House of Representatives early in the week beginning July 21," Aso told reporters. "Which party protects people's lives and Japan? That becomes a point of issue."
His own party members, however, say the timing could not be worse. The LDP suffered a major defeat in Sunday's election for the 127-seat Tokyo metropolitan assembly. Mr. Aso's ruling LDP and its coalition partner, New Komeito, lost its narrow majority, with opposition parties taking 66 seats. The DPJ won 54 seats, the largest number, while the LDP took only 38 seats.
Aso pressured to step down
---