Is China spying on Uighurs abroad?
Sweden arrested Uighur exile Babur Mehsut last month on charges of 'refugee espionage.'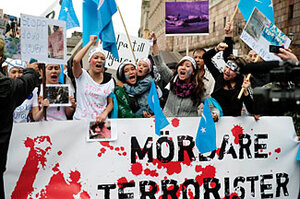 Bertil Ericson/Scanpix/REUTERS
The arrest in Sweden of a Uighur exile on charges of "refugee espionage" last month hints at how far China's efforts may extend to keep tabs on the ethnic group it considers a threat to the state.
The Swedish Security Police (Säpo) arrested Babur Mehsut, a Uighur exile and naturalized Swedish citizen, on June 4. According to Tomas Lindstrand, chief prosecutor of Sweden's International Prosecutor's Office, the crime involves the "unlawful acquisition and distribution of information relating to individuals for the benefit of a foreign power," in this case, China.
Mr. Lindstrand states that the alleged crimes occurred from January 2008 to June of this year in Sweden and abroad. Mr. Mehsut is known to have attended a meeting of the World Uyghur Congress in Washington this May.
Analysts and Uighur exiles say that China has an intelligence network aimed at monitoring developments in the Uighur diaspora and trying to sow dissension within and among Uighur groups. There is also wide agreement that Uighur operatives involved in the network are often coerced into it by the Chinese authorities.
---