Malaysia's opposition leader prepares for sodomy trial – again
Anwar Ibrahim, who heads an increasingly popular alliance, says the charges are meant to check his rise to power.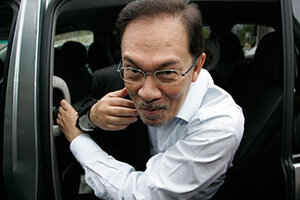 Lai Seng Sin/AP
Opposition leader Anwar Ibrahim appeared in a courtroom Wednesday over charges of sodomy in a virtual rerun of a politically charged prosecution that cut short his career a decade ago. The latest case has gripped a divided country and fanned concerns about the impartiality of its justice system.
Mr. Anwar, a former deputy prime minister, has denied the charges. His lawyers are seeking to dismiss the case on the basis of medical examinations of his accuser, a former male aide. On Wednesday, they filed a pretrial application for the prosecution to turn over additional evidence to the defence. The hearing resumes Thursday.
In an earlier interview, Anwar accused the government of trying to smear his reputation and predicted that it would fail. "I think it's going to be tough for them. We're going all out to fight it politically," he says.
The drama over the personal life of a high flier who has courted powerful friends in Asia, the Middle East, and the West, including former United States Defense Secretary Paul Wolfowitz, is a familiar one for Malaysia.
In 1998, Anwar was sacked and charged with sodomy and corruption after he defied former Prime Minister Mahathir Mohamad, whom he was expected to succeed. He was later convicted of both offenses and served six years in jail before being freed on appeal in 2004. He has always denied the accusations.
Since then, Anwar has emerged as leader of a resurgent opposition that has slashed the majority of Malaysia's ruling coalition, led by the United Malays National Organization (UMNO), and won control of four statehouses. He argues that the latest sodomy charges are a deliberate attempt to check his rise to power. If found guilty, he could face up to 20 years in jail and would have to resign his seat.
---