Indonesia hotel bomber: a graduate of jihad 'ivy league'
Investigation turns to an Islamist school that one of the suspected suicide bombers attended in 1995.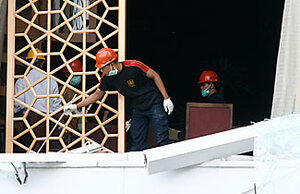 Supri/Reuters
Update: Latest developments reflect focus of investigation now turning to Islamic boarding school
On Monday, Indonesia's developing investigation into the terrorist attack on the Marriott and Ritz-Carlton hotels in Jakarta that killed nine people last week led them to the tiny Javanese town of Ngruki, where a small Islamic boarding school has been teaching jihad going on 20 years.
Tempo, an online Indonesian news source, said a "number" of police intelligence officers visited the Al Mukmin boarding school and The Jakarta Post reported that Indonesian investigators believe that Nur Sahid, a 1995 graduate of the school, was one of the suicide bombers who attacked businessmen enjoying their breakfasts at the hotel last week.
As the investigation has moved forward, evidence has mounted against Jemaah Islamiyah (JI), an Islamist group responsible for more than 300 murders dating back to 2000. The JI has long used the boarding school at Ngruki – which is run by its spiritual leader Abu Bakar Bashir – as a recruiting hub, making it part of a militant "ivy league," according to Sidney Jones, the leading investigator of the group,
Window on a school
---
Follow Stories Like This
Get the Monitor stories you care about delivered to your inbox.