A solar eclipse for the people
Not just devoted eclipse-chasers but millions of others were able to view the longest solar eclipse of the century as it passed over Asia Wednesday.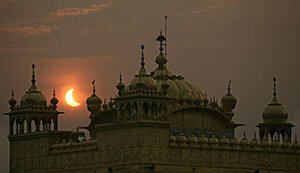 Altaf Qadri/AP
The solar eclipse that passed over Asia Wednesday – the longest of this century – was the 36th one Paul Maley has traveled the globe to see.
This time, he and his busload of eclipse-chasers fanned out around a half-built gas station outside Wuhan, in central China. As the moon passed in front of the sun, dogs barked and roosters crowed. Nocturnal flowers opened, only to close again minutes later. Fiery prominences shot from the aura of the sun shining behind the moon.
Dr. Maley – who runs the Astronomical Society of NASA's Johnson Space Center in Houston – has seen such wonders all before. But, he says, this eclipse was different, because millions of people got to see it.
"You could say that's what made this one special. It was probably viewed by more people than ever before," says Maley, who handed out glasses to protect onlookers from the ultraviolet rays. "Everybody seemed to have a really good time."
Eclipses often pass unnoticed
Solar eclipses typically are visible every six, 12, or 18 months – but can often only be glimpsed from the middle of the ocean. Maley's eclipse-chasing has taken him from Acapulco, where saw his first total solar eclipse in 1973, to the sparsely populated Gobi Desert in western China last year.
---