Clinton stresses US commitment at ASEAN forum
The US secretary of State's presence is meant to send a signal that Southeast Asia matters – and that the US is watching Chinese influence in the region.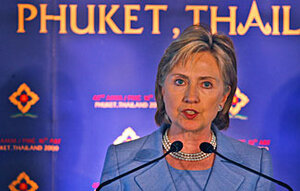 David Longstreath/AP
At times, global diplomacy is a lot like school: You get points just for showing up.
By attending an intergovernmental summit on the Thai island of Phuket this week, United States Secretary of State Hillary Rodham Clinton can point to a stronger US commitment to Southeast Asia, a region that felt slighted by her predecessor's spotty attendance record and security-first mind-set. By contrast, Ms. Clinton has proposed a broader range of cooperation with a region of 570 million people.
While the US is still driven by security concerns, particularly over North Korea's nuclear program, Clinton's presence in Phuket sends a signal that Southeast Asia matters. It also comes at a delicate juncture for Burma (Myanmar), a longstanding irritant.
"On behalf of our country and the Obama administration, I want to send a very clear message that the United States is back, that we are fully engaged and committed to our relationships in Southeast Asia," Clinton told a press conference here on Tuesday.
Competing with China for influence
Behind the renewed US attention is the rising influence of China, which has assiduously courted the region since the late 1990s.
Increased trade and cooperation with China has raised questions over the staying power of the US, particularly in light of its financial woes. That suggests that Clinton may be playing catch-up in Southeast Asia after the summit fuss dies down.
---
Follow Stories Like This
Get the Monitor stories you care about delivered to your inbox.