China takes baby step to reduce dependence on dollar
The authorities have launched a pilot project allowing some trade in renminbi. It comes as top US and Chinese officials wrap up a summit on economic coordination Tuesday.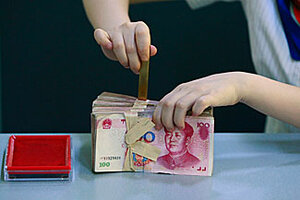 Reuters
As China grapples with a downturn that has threatened the value of its investments in the American dollar, it is taking baby steps to conduct trade in its own currency – most recently, by allowing five cities to settle certain international transactions in renminbi instead of dollars.
Though limited in scope, the pilot project marks one of China's biggest moves yet to reduce its dependence on the greenback – and raise the renminbi's international profile in the long run.
It comes as top US and Chinese officials wrap up a two-day summit in Washington Tuesday to discuss economic cooperation, including a bigger role for China in global financial bodies.
In recent months, top Chinese officials have publicly voiced concern about the staying power of the dollar, though Beijing is not offering its own currency as an alternative any time soon.
"Chinese officialdom is serious about trying to increase the international use of the renminbi over time," though "they understand it will take decades to make their currency attractive" enough, says Barry Eichengreen, an economist at the University of California, Berkeley.
First steps toward trading in
---