China courts its creative types in a massive way
It aims to repeat its manufacturing success by grouping artistic professions the way it did its factories.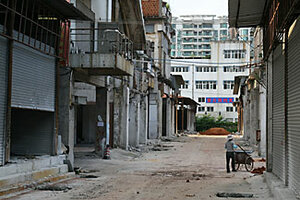 Jeremy Kutner
He Jiankiang is not a romantic. He doesn't pine for a lost China buried under skyscrapers. But when he heard that an old factory at the edge of town was being converted to office space for creative types, the architect leapt at the chance to move.
"In the past, there was nobody thinking about this kind of thing ... about what creative people need," Mr. He says from his balcony, overlooking old warehouses and machine rooms at the Yangcheng Evening News Creative Industry Zone in Guangzhou, southern China. "Nobody was thinking about what the future would be."
Spurred by the unlikely success of a factory-turned-art-space in Beijing called 798 and a desire to diversify the economy, cities across China are converting dozens of abandoned factories into art galleries, industrial-chic office space, and entertainment destinations. Many that aren't yet repurposing old industrial sites are drawing up plans – motivated by hope of profits or fear of criticism from higher-ups for failing to follow the latest trends in city development.
"China's investing heavily in the knowledge worker writ large, and this has become another part of that investment," says Eugenie Birch, chair of the University of Pennsylvania's Department of City and Regional Planning. "And when China does something, it does it at full force."
The 'creative industry' concept, born overseas in the mid-1990s, took hold here a few years ago, when government leaders began referringto it in speeches and planning documents.
---