Taiwan president under fire over typhoon response
Critics say Typhoon Morakot is Ma Ying-jeou's Hurricane Katrina. He has been faulted for weak leadership in dealing with a devastating storm that killed at least 127, with hundreds still missing.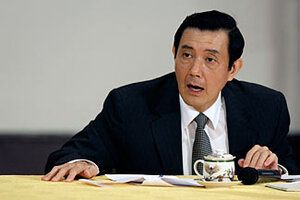 Pichi Chuang/REUTERS
Fingerpointing has begun in earnest in Taiwan, as the island struggles to recover nearly a week and a half after its deadliest typhoon in at least 50 years.
Many here pin blame on the government, especially President Ma Ying-jeou. The disaster has become his Hurricane Katrina, with critics – including some from his own party – faulting him for poor leadership, bumbling crisis management, and a tin ear for public concerns.
"He's been hurt badly by this crisis," says George Tsai, a political scientist at Chinese Culture University and supporter of Ma's party. "He and his government turned it into a political crisis because people think he didn't show enough compassion."
Typhoon Morakot hit the island late on Aug. 7, dumping a record 9-1/2 feet of rain over a three-day period, especially on mountainous areas in the south. As of Tuesday afternoon, the official death count stood at 127, but 307 more are missing and feared dead. Damages are estimated at $3 billion.
In the mountain village of Shiaolin, some 250 people are believed to have perished when the mountainside above them collapsed under torrential rain. Survivors in that area are blaming a water-diversion project for making their communities more vulnerable to flooding and mudslides.
Hundreds of people remain stranded without food or supplies in other areas of Taiwan, cut off by caved-in or buried roads.
President Ma has been faulted for a cautious, by-the-book response. He declined to declare a state of emergency, and said the cabinet should lead the crisis response, not him. Critics say he failed to fully mobilize the military, and passed the buck by faulting local governments and even villagers themselves.
---