Kim Dae-jung: controversial bid for 'sunshine'
The one-time democracy advocate and then president of South Korea, he focused on trying to improve relations with the North.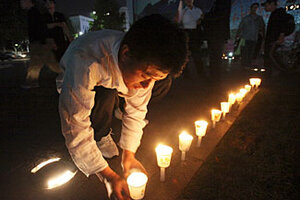 Ahn Young-joon/AP
Kim Dae-jung, South Korea's president from 1998 to 2003, who died Tuesday, dedicated his career to fighting dictatorial leaders and won the Nobel Peace Prize for his unremitting efforts at reconciliation with North Korea,.
Praise for Mr. Kim's achievements poured in from his admirers as well as longtime foes. South Korea's President Lee Myung-bak, a conservative who strongly opposed Kim's conciliatory outlook toward North Korea, called him "a great political leader" whose "accomplishments and aspirations to achieve democratization and inter-Korean reconciliation will long be remembered."
The US Embassy in Seoul hailed him as "an inspired leader, a committed activist and a good friend," citing "significant gains" in relations between the United States and Korea during his presidency.
The statement masked the fact that US-Korean relations, for much of Mr. Kim's presidency, were strained by enormous differences over his signature issue: his approach to achieving North-South reconciliation.
Elected president – on his fourth attempt – in December 1997, Kim Dae-jung broke through the barrier of North-South confrontation when he flew to Pyongyang in June 2000 to meet the North's Kim Jong-il for the first inter-Korean summit. Six months later, he received the Nobel Peace Prize.
---