Japan's opposition touts fresh faces in bid for election victory
The Democratic Party of Japan has promoted women and younger candidates who have not risen through traditional routes to power.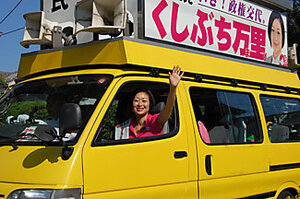 Takehiko Kambayashi
Mari Kushibuchi is an energy bunny.
Even at the end of a hard day on the campaign trail Friday, two days before Japan's parliamentary elections, she was racing around the railroad station forecourt in this Tokyo suburb, clutching the hands of anyone who showed even passing interest in her manifesto.
The display of hyperactivity was deliberate, and not just because Ms. Kushibuchi is anxious to win every last vote she can. Her party, the opposition Democratic Party of Japan (DPJ), is "projecting a new image compared to the old politics," she says, "an image of energy."
In her hot-pink T-shirt and white slacks, first-time candidate Ms. Kushibuchi, who is 41, says her key talking points with voters are that "I'm a woman, I'm fresh, and I'm new."
That message seems to be going over well with the Japanese electorate, fed up with the cliquish Liberal Democratic Party (LDP) after almost 55 years of unbroken rule, according to opinion polls. The DPJ is slated to win a landslide victory in Sunday's elections to the lower house of parliament.
Kushibuchi is one of a raft of younger candidates that the DPJ has put up (60 percent are under 50), signaling a generational sea change in Japanese politics.
"The LDP has dominated postwar politics, and it has a strong tendency to find new candidates in its own world," says Noriaki Tsuchiya, deputy director of the Matsushita Institute of Government and Management. "Young politicians had to wait around for 100 years" before they got a chance to run for office.
---