After rapid climb, India's airlines face steep descent
Upstart airlines were once a symbol of India's rising consumer class. They're now facing major losses as overcapacity and high fuel taxes catch up.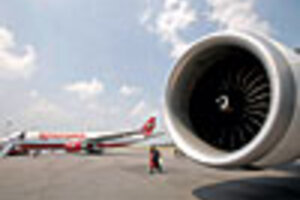 Reuters
"Fly the good times," urges the slogan of Kingfisher airlines, India's biggest carrier.
"But not the bad," it might have added earlier this month, when Kingfisher, along with six other private airlines, threatened a one-day strike to demand government help to save them from going bust.
Only two years ago, India's private airlines were held up as symbols of the country's spectacular economic growth. After the government opened commercial aviation to increased competition in 2004, half a dozen airlines were started to serve India's fast-growing and flush middle class.
Passenger numbers surged as cheap flights proved an irresistible alternative to long, bumpy train journeys.
Kingfisher, which is named after India's most popular brand of beer – the two share a founder – and its main rival, Jet Airways, led the boom. Travelers were amazed at the service they provided – roomy seats, hot towels, impeccably polite attendants, and three-course meals – at prices that were often cheaper than train fares.
Kingfisher and Jet quickly got involved in a race to become dominant international carriers and shelled out billions of dollars for planes suitable for long-haul journeys.
Those days are long gone.
In the quarter ending June 30, Kingfisher recorded a net loss of 2.43 billion rupees ($51 million) and Jet, a net loss of 2.25 billion rupees. Both are slashing long-distance flights, and the two rivals have plans to share airport facilities and coordinate schedules to cut costs.
Amid decline, a demand for lower taxes
---