Japan's economic downturn pushes more onto streets
Homelessness has doubled over the past year, say some, as once-vaunted community and company support has frayed. Many people sleep in parks or 24-hour Internet cafes.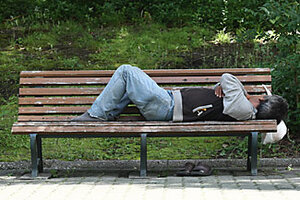 NEWSCOM
By the time the police arrived at 7 a.m. last Monday to move him on from the Ikebukuro subway station where he had spent the night, Isao Ito had been awake for some time.
He had been poring over the jobs section of a magazine, and he hadn't slept well anyway.
Newly arrived in the capital in search of work, he said, "I haven't eaten or slept for three days. I'm alone, and I'm nervous about sleeping rough."
Welcome to the global recession, Japanese style. As Mr. Ito has just found, perhaps nowhere else in the industrialized world is it so easy to slip from just getting by to utter destitution.
Some 460,000 people have lost their jobs in Japan since the "Lehman shokku," as people here call it – the day last September when the collapse of Lehman Bros. bank triggered a worldwide financial crisis.
Half of them, like Ito, were on temporary or part-time contracts that gave them no unemployment or other social security insurance.
Thousands lived in company housing, and when they lost their livelihoods, they lost their homes. Today they sleep in parks, under bridges, and in railway stations. If they still have a little money, they bunk down for the night in cubicles in 24-hour Internet cafes.
Homeless numbers swell
Though official figures disguise the scale of the crisis, says Shoji Sano, founder of the Japanese edition of the "Big Issue," a magazine sold by homeless people, "judging by the number of people who go to soup kitchens, I'd say the number of homeless in Tokyo has doubled" over the past year.
---