Bringing China's economic boom to rural students left behind
A program sends students from top Chinese universities into impoverished areas to coach poorly educated students, hoping to give them a stake in China's future.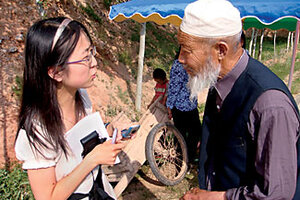 Jonathan S. Landreth
Sun Liyuan surprised herself with her passion for teaching English as a volunteer in northwest China's impoverished Qinghai Province, not far from where she grew up as the daughter of a rural schoolmaster.
The Tsinghua University junior was initially ambivalent about the program that her school, one of the top universities in China, had set up to help educate farmers bypassed by China's 30-year economic boom.
But Ms. Sun soon postponed preparations for the Graduate Record Exam she'd planned to take in order to study in the United States. The chemical engineering major liked the idea of giving back.
Sun joined the fourth year of the Summer Service Learning Program that – with support from the Wang Foundation of Pebble Beach, Calif. – sends 150 of Tsinghua's brightest to rural China to share the skills they used to escape poverty.
For 10 days in July, Sun and four classmates went to Ledu, a town of 20,000 on the eastern edge of the Tibetan plateau. Most of the 1,400 students at Ledu Experimental High School board in cement-floored dormitories. Their families grow barley and herd goats in the nearby mountains.
---