China's auto industry shifts into high gear
Partnerships with West have given it needed technology; now it's the world's biggest car market, having passed the US this year.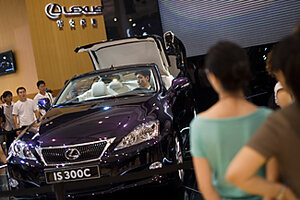 Andy Wong/AP
As General Motors emerged from bankruptcy and launched the new LaCrosse under its surviving Buick brand this summer, the car showcased a unique feature: an interior that was entirely designed in China.
The leather seats and blue ambient lighting sprang from the minds of 1,700 Chinese engineers working at a Shanghai-based technical center, a joint venture between GM and one of China's top automakers, Shanghai Automotive Industry Corporation.
"This is an example of where China drove that car," says Maryann Combs, president of the Pan Asia Technical Automotive Center. "The No. 1 selling country in the world for Buick is here."
In just 20 years, the auto industry here has leaped ahead through partnerships like these, acquiring technology from foreign companies in exchange for access to China's vast market.
The global economic crisis is accelerating the industry's already rapid advance, as foreign companies seek haven in China's still-growing market. At the same time, Chinese carmakers are looking to scoop up – at fire-sale prices – foreign technology and brands to expand their know-how and global reach, though ­integrating foreign companies could prove difficult.
---