China's citizen petitioners find cold reception in Beijing
Dismissed and harassed by local officials, a group of parents seeking redress for what they say are their children's vaccine-related disabilities traveled to the capital in a centuries-old tradition.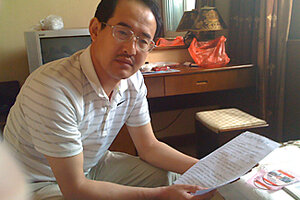 Peter Ford / The Christian Science Monitor
Yu Tong'An had high hopes last Tuesday morning as he stood in a Beijing park surveying a group of some three-dozen parents who believe that their children – like his teenage son – have been sickened or killed by mandatory vaccinations.
At last, he thought, enough victims had gathered to make their demand for justice heard at the highest levels of government.
"The Chinese government does not like ordinary people to get together, but that's what we have to do," he said.
A week later, disconsolate and disillusioned, Mr. Yu, a peasant farmer, was taken back to his village in southern China by local officials sent to the capital to catch him. He has not been heard from since he boarded a plane at lunchtime on Monday.
"Frankly, I do not know my next step," he had said shortly before he left. The only Health Ministry official he had been allowed to see "just lied to us," he lamented. "Officials don't deal with our problem. They just kick it from office to office."
Yu's story offers an unusual glimpse into the desperate world of Chinese petitioners seeking redress from central government for wrongdoing by local authorities.
It is a centuries-old tradition that Beijing is keen to stamp out, especially in the runup to important events such as the 60th anniversary of the People's Republic of China Oct. 1, when the government hopes to present an image of national harmony.
Provincial governments, fearful that citizens might reveal their failings to higher officials, can take extreme measures to derail such critics. Often, they send policemen to Beijing to track petitioners down and stop them from filing their complaints. Sometimes they hold petitioners in illegal "black jails."
Tactic: wear them down
Yu and his fellow protesters, who came from all over China, suffered no such fate last week.
---