China gets serious about carbon emissions, global warming
At UN, China's Hu Jintao commits to measurable limits on carbon emissions for the first time. Chinese environmental activists hail the shift toward low-carbon technology.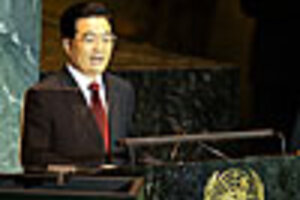 Frank Franklin II/AP
The pledge that Chinese President Hu Jintao made at Tuesday's United Nations climate change summit in New York – to put the brakes on China's carbon dioxide emissions – may have been short on specifics.
Chinese environmentalists, though, are hailing it as an important sign that Beijing is now fully committed to the global crusade against greenhouse gases.
The Chinese leader "signaled a willingness to move forward the negotiations" on CO2 curbs that are due to culminate in Copenhagen, Denmark, in December, Greenpeace China's climate expert Yang Ailun said here Wednesday. "This is a step in the right direction."
Mr. Hu promised that China would reduce its carbon intensity "by a notable margin by 2020 from 2005 levels." Carbon intensity is the amount of CO2 produced for each unit of economic output.
Though Hu put no figure on the goal, this marked the first time that Beijing has committed to measurable limits on its greenhouse-gas emissions. A senior Chinese official said later that a firm target would be announced "soon."
---