Pacific tsunami: Aid efforts begin in Samoa
As the US prepared to dispatch emergency relief to American Samoa, Australia and New Zealand focused their aid efforts on Samoa.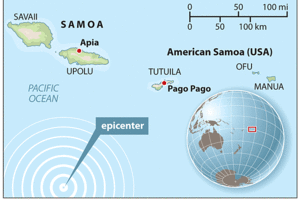 Source: USGS, dpa
Sulili Dusi was jolted awake just before 7 a.m. local time Tuesday by a powerful earthquake that shook the walls of her house on Samoa's main island, Upolu. She and her family ran outside to find the trees trembling, too, she told Radio New Zealand. They fled to higher ground before a series of tidal waves roared ashore. Other residents of Samoa, neighboring American Samoa, and Tonga were not so fortunate. [Editor's note: The original version misidentified the date of the earthquake.]
More than 100 people, including foreign tourists, are thought to have died in the South Pacific after the magnitude 8.3 offshore quake triggered a tsunami, sending walls of water crashing into nearby islands. At least 30 are confirmed dead in American Samoa, where workers at a fish-canning factory in the capital, Pago Pago, say they had only three minutes' warning before the devastating waves struck.
In Samoa, the independent nation formerly known as Western Samoa, survivors claim that they, too, received little or no warning. One woman, who gave her name only as Ngutu, told the Australian Broadcasting Corporation that after the earth stopped moving, "everyone was just walking around normal – curious about what was going to happen."
Then, she said, a wave "tall as the sky" smashed into her little coastal village, Ulutogia. "Everyone just started running inland towards the hills, running for our lives."
---