China's 60th anniversary: from Mao's ideology to iPhones
Four generations of women recall China's decades-long swerve from revolution and trauma to pragmatism and creature comforts.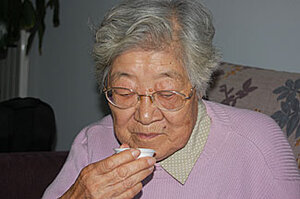 Peter Ford/ The Christian Science Monitor
Sitting on the sofa amid the middle-class creature comforts typical of modern city life in China, Guan Shulan is effusive about how fortunate she is. Surrounded by six daughters and a son to look after her, the great-grandmother is the coddled matriarch of Chinese dreams.
"I am lucky to have lived so long," she says contentedly.
As China celebrates the 60th anniversary of its Communist revolution Thursday, and as Ms. Guan looks back on her life, her family saga reflects the story of China's extraordinary modernization over the past several decades.
It is a saga of lives ravaged by political upheavals, but one that has left Guan and her descendants largely unmoved by politics. Instead they are simply grateful – like many Chinese – that at last they have escaped turmoil and want, and can enjoy a tolerably prosperous life.
Life was not always like this. Guan was born 85 years ago just a couple of blocks from her son's apartment where ornamental fish swim in a bubbling tank and a DVD player sits atop the TV. But the squalid slum where she grew up was another country.
Her rickshaw-pulling father and washerwoman mother were so poor that they gave three of their children away at birth. Unable to feed their daughter, they sold Guan to a neighbor as a child bride when she was 5 years old for three silver coins.
Guan cries and dabs her eyes as she recalls how her parents reclaimed her from her new family, where she had been beaten, but were too poor to send her to school. "I remember all that very clearly," Guan says.
Fast forward 70 years, and the contrast with Guan's great-granddaughter, 8-year-old Xie Wenxin, could scarcely be more astonishing. The little girl has only just lost her baby teeth but already she speaks English (hesitantly, perhaps) and has chosen "Wendy" as her English name. Her parents think it would be a good idea one day to send her to a university abroad.
Looking for liberation
When great-grandma Guan should have been at school, she was working alongside other girls in a sweatshop making thread. She had to wait until 1950, when the new revolutionary government launched an adult literacy campaign, for a chance to learn to read and write.
---