Indonesia earthquake toll rises as survivors await relief
A second Indonesian earthquake struck near the city of Padang Thursday as the death toll rose to at least 529. Some residents, fearing aftershocks, sought safety outside despite monsoon rains.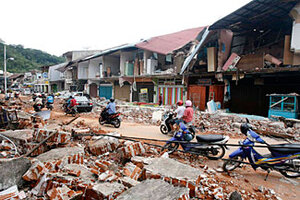 Crack Palinggi/Reuters
Rescue workers scrambled Thursday to reach survivors of a 7.6-magnitude earthquake that struck off the Indonesian island of Sumatra as the official death toll topped 500. A second tremor early Thursday triggered further panic in Padang, the stricken city near the epicenter, though without causing further damage.
Government officials put the death toll at 529 and warned that it will rise as more bodies are recovered from the wreckage in Padang, a coastal city of nearly 1 million residents. Rescuers are using mechanical diggers to claw away the rubble and appealing for more equipment to be sent.
The tragedy came one day after an undersea earthquake in the Pacific Ocean triggered a tsunami that pounded the islands of Samoa. The United States has sent aid to American Samoa, and foreign aid is reaching the other, self-governing islands.
Fearful residents stay outside, despite rains
While Wednesday's quake off western Sumatra didn't trigger a tsunami, thousands of frightened residents fled to higher ground in fear of a repeat of the 2004 earthquake and subsequent tsunami that flattened Aceh on the northern tip of Sumatra. Many survivors remained outside Thursday, fearful of further aftershocks, despite monsoon rains that lashed the area.
As a result, the city is mostly empty and its streets are strewn with rubble from collapsed concrete buildings, says Ridwan Gustiana, director of Ibu Foundation, a private aid organization. He estimated that 700 buildings in Padang had suffered severe damage and an additional 1,700 were partly damaged.
---