Rescuers scramble to find Indonesia earthquake survivors
Rescue teams in Padang worked to pull survivors from collapsed buildings and clear roads blocked by landslides, as the death toll from Wednesday's earthquake topped 1,100.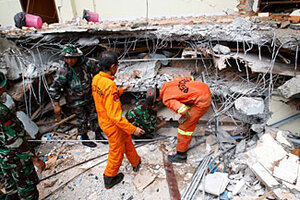 Achmad Ibrahim
Relief efforts continued Friday in the stricken Indonesian city of Padang, near the epicenter of Wednesday's 7.6-magnitude quake. Rescuers are still digging through the rubble of ruined buildings and homes and, in rare cases, pulling out survivors.
Aid workers are also focused on helping residents left destitute by the disaster. Tens of thousands are estimated to be homeless or afraid to sleep inside unsound buildings, and makeshift shelters have sprouted around the city, much of which lacks access to electricity and water.
Mild aftershocks shook the area Friday, though not on the scale of Wednesday's quake or a second tremor that struck Thursday further south. Aid workers described scenes of devastation, chaos, and grief, as communities held mass funerals for the dead. The United Nations has put the death toll so far at 1,100, though news agencies cited lower tallies from Indonesia's social welfare ministry.
In Padang, a city of 900,000 residents pinned between the Indian Ocean and a jagged mountain range, tentative signs of life appeared Friday. More cars and motorbikes were seen on the streets and some shops reopened.
Teen freed from collapsed school
And the desperate hunt for the injured trapped under jagged heaps of concrete and steel went on, as authorities struggled to find more excavators to do the job. Some rescuers dug by hand, watched by anxious crowds looking for lost friends and family.
"They're still trying to rescue people, but I don't know if they will succeed when I look at the [damaged] buildings," says Enda Balina, an aid worker for World Vision, speaking from Padang.
Among hundreds of destroyed buildings are high-rise hotels, hospitals, mosques, and shopping malls. Some tall buildings withstood the quake, while others crumpled.
---