Buddhist sect decries lack of religious freedom in communist Vietnam
After being forced from their monastery last week, 354 followers of a world-famous monk face new police pressure to leave the temple where they sought refuge.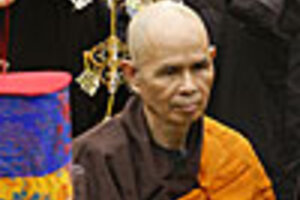 AP/File
A Buddhist sect led by a world-renowned Vietnamese monk has been driven out of a monastery in Vietnam's southern highlands in what sect members say is an official crackdown.
Supporters say around 100 police and plainclothes thugs evicted more than 350 Buddhist monks and nuns by force last Sunday from the hillside monastery in the town of Bat Nha. The followers, many of them in their twenties, then found refuge in another, smaller temple in nearby Bao Loc but say they are now being pressured again to leave by local authorities.
In recent years, communist-ruled Vietnam has begun to loosen its grip on sanctioned faith groups, while keeping a close watch on dissidents. In 2006, the US State Department took Vietnam off a blacklist of countries that severely limit religious freedom, a move that human rights groups called premature. Now, followers of the popular sect are asking for the US and other governments to intervene, arguing that Vietnam is persecuting them.
"We see clearly that they don't want our young nuns and monks to stay together and practice as a community," says Trung Hai, a monk in France who is in contact with the 354 followers holed up in the temple near Bao Loc. He says they are fearing for their safety.
Recent crackdown on sensitive subjects
The recent religious tensions follow the detention of several Vietnamese bloggers critical of relations with China and other politically sensitive issues. An independent public-policy research center also closed down. Some analysts have linked the crackdown to intraparty jostling ahead of a 2011 party congress.
---