Clinton says North Korea missile tests won't affect talks
Kim Jong-il's regime also delineated 'no-sail zones' off both its east and west coasts in a bid to show toughness ahead of talks on its nuclear program.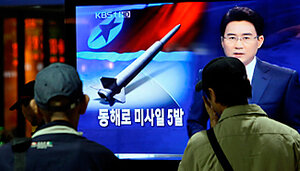 Lee Jin-man / AP
North Korea interrupted moves toward dialogue on its nuclear program Monday by reportedly test-firing five short-range missiles off its east coast.
A South Korean official, briefing the Korean media, said two short-range KN-02 missiles were fired in the morning and three more in the afternoon. The missiles, with a range of 75 miles, were shot from mobile launch pads near where North Korea fired a long-range Taepodong-2 missile on April 5.
The timing of the tests, the North's first in three months, is particularly significant since North Korea's leader Kim Jong-il has shown clear interest in opening two-way dialogue with the US – and has even indicated his willingness to enter six-party talks that he had previously vowed to spurn. The tests are an effort to show North Korea's toughness – and at the same time to draw the US into bilateral talks, which the US has said it would agree to only if North Korea first agreed to six-party talks. Koh Yu Hwan, a professor at Dongguk University here, was quoted by Yonhap, the South Korean news agency, as saying the tests help North Korea "stake out its position ahead of its talks with the outside world." Ryoo Kihl Jae, professor at the University of North Korean Studies, said North Korea was "demonstrating its guts."
---