Released, American father still faces uphill child custody battle in Japan
American Christopher Savoie was arrested Sept. 28 in Japan after trying to get his children back from his ex-wife. The case has underscored widely different views in the US and Japan of parental rights and child-rearing.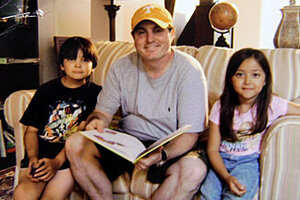 Williamson County (Tenn.) Court Clerk and Master's Office/AP
Japanese police have released an American father who was imprisoned for allegedly kidnapping his own children despite his sole legal custody of them.
Prosecutors have not pressed charges against the American, Christopher Savoie, but they haven't yet dropped the case. Officials said they decided to release him on grounds that he was not a flight risk.
The case, which is among a growing number of international custody disputes in Japan, highlights widely varying views of divorce and child-rearing.
After Christopher and Noriko Savoie divorced in the United States, Mrs. Savoie defied a court order and took their two children to Japan. Mr. Savoie then came to Japan to get the children back. On Sept. 28, he forcefully took them and tried to get them into the American Consulate in Fukuoka. He was arrested for kidnapping them, the police say.
Tadashi Yoshino, Mr. Savoie's Japanese lawyer, said before his client's release that the American should not be indicted. "All he did was to exercise his legitimate right," Mr. Yoshino said, "though technically he may have committed a crime according to Japanese law."
US critical of Japan
US officials have long criticized Japan for its failure to sign a 1980 international agreement governing child abductions, known as the Hague Convention on Civil Aspects of International Child Abduction.
---