Rivals China, India in escalating war of words
China offered to help India's archrival, Pakistan, develop a territory claimed by India. India invited the Dalai Lama, a top irritant to China, to visit a state claimed by China.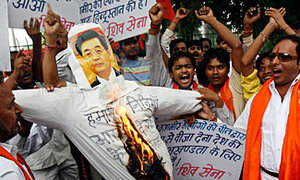 Adnan Abidi/Reuters
China and India have taken a vituperative war of words and diplomatic barbs to an unusual level of tension in recent days, prompting fears that the traditional rivalry between the two Asian giants could spin out of control.
"The most urgent present job for both sides is crisis management," says Han Hua, an expert on South Asia at Peking University. "I don't think either government wants the situation to go further downhill."
The recent angry exchanges were prompted by a decades-old border dispute over which the two countries went to war in 1962, and which has proved impervious to 13 rounds of negotiations since.
But deeper resentments lie behind the spat, says Shen Dingli, deputy head of China's South Asia Research Institute. "The structural problem is leadership," he argues. "The question is who leads in Asia?"
Trading barbs
The "People's Daily," published by China's ruling Communist party, launched a blistering attack on India last week, accusing it in an editorial of "recklessness and arrogance" and of harboring "the dream of superpower ... mingled with the thought of hegemony."
---