In South Korea, Gates underscores threat from North
Secretary of Defense Gates reassured jittery South Korea of firm US commitment to deterring North's conventional forces and confronting its nuclear threat.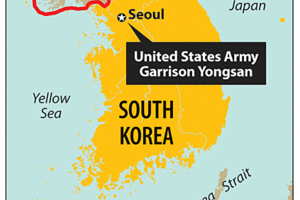 Rich Clabaugh/Staff
For jittery South Korean officials, the assurance from Defense Secretary Robert Gates was exactly what they wanted while waiting for the United States finally to agree on bilateral talks with North Korea.
The essence of Mr. Gates's message to the South, as delivered Wednesday before soldiers at the central US military base here: No way would the US "ever accept a North Korea with nuclear weapons."
Indeed, Gates told the soldiers in a gymnasium on the Yongsan base, "the peril posed by the North Korean regime remains – and in many ways has become even more lethal and destabilizing."
That outspoken declaration came as the State Department moves toward the two-way dialogue long desired by North Korea – and seen by South Korea as a possible step toward North Korea's goal of recognition as a nuclear power. Officials view with suspicion the permission granted by the State Department for North Korean negotiator Ri Gun to attend seminars in California and New York, at which he's expected to meet US negotiator Sung Kim and discuss plans for US envoy Stephen Bosworth to go to Pyongyang.
---