Did President Clinton meet N. Korea's Kim Jong-il or his look-alike?
The North Korean leader may be using look-alikes to hide his poor health. One analyst says that when President Clinton visited in August, he met with an actor, not Kim Jong-il.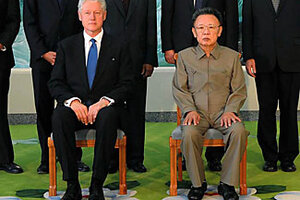 Korean Central New Agency/AP/FILE
Will the real Kim Jong-il please stand up?
A number of analysts here are convinced that not all the photos being released of North Korea's leader, Kim Jong-il, are really photos of Kim Jong-il.
Instead, they say, a look-alike has been standing in for him on some of the 122 trips he's reportedly made this year to the countryside, factories, cultural events, military units, and all sorts of other venues.
Some observers say the North Korean leader is too ill to make all these appearances. One Japanese analyst claims President Clinton didn't meet with Kim Jong-il in August – he met with a Mr. Kim double.
The evidence of Kim stand-ins is far from verified, but several North Korean refugees here say that Kim has not one but several look-alikes playing his role.
Still, it's logical that for security reasons, Kim has one or more stand-ins, as did former Iraqi President Saddam Hussein before the US invasion in 2003. One argument is that Kim has no time for all those trips outside Pyongyang while his health remains uncertain and he's preparing his youngest son to take over as early as next year.
Ha Tae-young, president of Open Radio for North Korea, which broadcasts two hours a day via shortwave into North Korea, cites the word of one recent North Korean defector.
---