Rising tide of asylum-seekers: Will Australia let them in?
Australian Prime Minister Rudd faces twin crises as he weighs how to handle Sri Lankan Tamil refugees picked up at sea by Australian and Indonesian ships and taken to Indonesian ports. The "boat people" are refusing to disembark.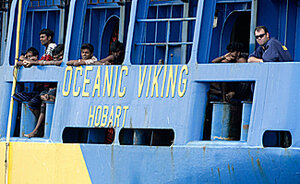 Vivek Prakash/Reuters
It is the enduring image of the John Howard era: special-forces troops boarding a Norwegian freighter, the Tampa, to prevent it from docking in Australia with 430 asylum-seekers rescued from their sinking boat. The 2001 incident sparked international condemnation but it helped the conservative prime minister to win his third general election.
Now Howard's Labor successor, Prime Minister Kevin Rudd – who must call an election within the next 12 months – has his own Tampa: the Oceanic Viking, an Australian customs ship that picked up 78 Sri Lankan Tamils from a stricken vessel in Indonesia's search-and-rescue zone nearly a fortnight ago. Mr. Rudd has persuaded Indonesia to take in the asylum-seekers, but they were still refusing to disembark Friday, after five days anchored off the northern port of Kijang.
Meanwhile, another 255 Tamils intercepted by the Indonesian Navy en route to Australia have spent nearly three weeks in the port of Merak, in West Java. They too, are refusing to get off. They too, want to go to Australia, rather than being processed in an Indonesian detention center and then waiting, probably for years, to be resettled in another country.
---