Was clash of North, South Korean navies timed to Obama visit?
South Korea accused North Korea of entering its waters and ignoring warning shots, charges the North denies.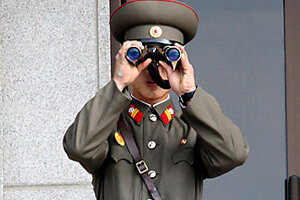 Lee Jin-man/AP
A skirmish between North and South Korean Navy ships flared up Tuesday morning in the Yellow, or West, Sea, raising tensions as the region awaits US President Barack Obama's first trip to Asia since he took office.
The South Korean Navy accused the North Korean side of starting the two-minute shootout by entering South Korean waters and ignoring warning shots. North Koreans responded that its vessel was within territorial limits when the South Koreans opened fire, and demanded an apology.
According to South Korean defense officials, the North Korean vessel retreated in flames with an unknown number of casualties. The South Koreans reported no casualties, but said 50 North Korean bullets struck their vessel.
The worst skirmish between the two countries occurred in June 1999, when North Korea challenged South Korea's authority. A North Korean vessel was sunk and about 40 North Korean sailors were believed to have been killed. In the most recent flare-up, in June 2002, a North Korean boat opened fire, killing six South Korean sailors and sinking their boat. South Korea charged that the North Korean vessel ventured considerably south of the "Northern Limit Line" in the Yellow Sea.
North Korea has repeatedly rejected the legitimacy of the border and often stated its right to enter the waters south of it. On occasion it has vowed to fight for its claim.
"The South Korean side got the best of it this time," observes Aidan Foster-Carter, a British scholar who specializes in Korean issues, but he seems uncertain why North Korea would risk a battle at sea while looking for bilateral dialogue with the US.
---