Obama meets Japan's Hatoyama, stressing equal partnership
Obama, in first stop of his Asia trip, addressed the thorny issue of a US military base in Okinawa. Despite recent tensions, Obamamania is still strong in Japan.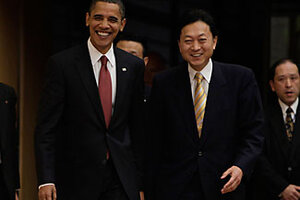 Pablo Martinez Monsivais/AP
President Barack Obama's first trip to Asia as head of state began with a warm welcome Friday in the highly guarded Japanese capital, where excitement over the president persists despite recent tensions over the two nations' security alliance – in particular the presence of United States military bases in the Japan.
The visit comes against the backdrop of a newly assertive Japanese government, led by Prime Minister Yukio Hatoyama and his Democratic Party of Japan (DPJ), which in August ended a half-century of nearly unbroken rule by the Liberal Democratic Party.
On Friday, the two leaders exchanged views on issues including Afghanistan, nuclear nonproliferation, the economy, and the main US military base in Okinawa.
Mr. Hatoyama has said that, although the US-Japan alliance remains solid, he wants to put it on a more "equal footing." He has previously called for moving the US military base out of Okinawa – where many of the nearly US 45,000 troops in Japan are stationed. But for now, he has shelved plans to do so.
Smoothing out ties with the new DPJ-led government – and recognizing Japan's stated desire for a more equal partnership with the US – is likely to top Obama's agenda during this trip.
---