US eyes China as global partner
Obama's first visit to China will test that nation's readiness to look outward – and past disagreements.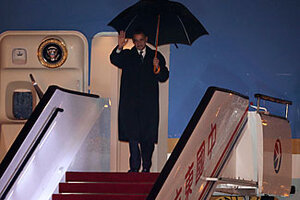 Nir Elias/Reuters
As President Obama surveys the range of global problems that his administration is called on to grapple with, he is searching for someone to give him a hand.
His eye is on the new kid on the international block: China. But like an awkward teenager confused by his rapid development, Beijing is fidgety, uncomfortable with Washington's unaccustomed attention.
As Mr. Obama arrived in China Sunday evening for a three-day visit,"the big issue will be the degree to which China gets fully engaged as a global partner and actor," says David Shambaugh, who heads the China Policy Program at George Washington University. "So far, they have been reticent."
China's leaders "are not ready to take that kind of responsibility," says Jin Canrong, deputy head of the School of International Studies at Renmin University in Beijing. "They feel a little nervous. It is too early."
Obama's talks with Chinese President Hu Jintao and other leaders mark the first time a US leader's visit will focus not on narrow bilateral issues but on global themes such as climate change, recession, and nuclear nonproliferation.
---