Australia's Rudd apologizes to forced child migrants
Australia Prime Minister Kevin Rudd formally apologized to the thousands of institutionalized children and child migrants shipped from Britain to rebuild Australia after World War II. Many were abused.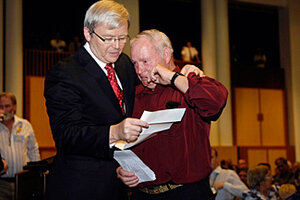 Reuters
Australian Prime Minister Kevin Rudd on Monday apologized to hundreds of thousands of children abused or neglected in institutions, including some 7,000 British children shipped to Australia after World War II. Sometimes called "the orphans of Empire," they received the formal apology after decades of campaigning for recognition. As with his government's previous apologies, many of the victims here welcomed the gesture, while others expressed a desire to see more practical steps taken to overcome their losses.
Inside Parliament House in Canberra, the nation's capital, about 900 of the former child migrants gathered in the audience to hear Mr. Rudd deliver words of contrition. The prime minister told them: "We come together today to offer our nation's apology, to say to you, the forgotten Australians, and those who were sent to our shores as children without their consent, that we are sorry. Sorry that as children you were taken from your families and placed in institutions where so often you were abused. Sorry for the physical suffering, the emotional starvation, and the cold absence of love, of tenderness, of care. Sorry for the tragedy, the absolute tragedy, of childhoods lost."
Among those listening to the apology – which followed one delivered by Mr. Rudd last year to the "Stolen Generations" of Aboriginal children forcibly removed from their families – was Mick Snell, who has bleak memories of his time in a Methodist-run children's home in Sydney.
Mr. Snell arrived in Australia under a postwar plan to empty British orphanages and repopulate the former colony with "good white stock." The children, who were shipped out from 1947-67, believed their parents were dead. In reality, Mr. Snell's unmarried mother had been forced to give him up as a baby. That was the case with many of the "orphans;" others had been placed in care by impoverished families.
---