Obama charisma? China keeps it in tight check.
On first Obama trip to China, the message is clear: This is about China's rise, not Obama popularity.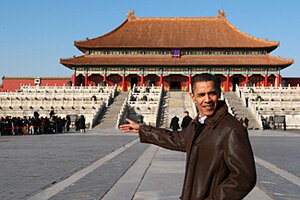 Newscom
President Obama and his entourage visited the Forbidden City in splendid isolation Tuesday, admiring the centuries-old palace complex that was off limits to Chinese visitors for the day.
"Special foreign affairs" explained the closure to the public, in a curt notice taped to a window of the police car that blocked the entrance to the symbol of China's splendid past. Disappointed would-be visitors were left to guess that the president of the United States was coming.
The vague wording of the notice was in keeping with the official tone that the Chinese authorities have adopted for Mr. Obama's first visit here. Tuesday's People's Daily, the official organ of the ruling Communist party, for example, relegated coverage of the president's activities in Shanghai to the bottom left-hand corner of the front page.
It splashed coverage of the funeral of a former deputy prime minister across the top of the page.
"They don't want this trip to be about Obama," says Russell Leigh Moses, a political analyst here. "They want it to be about China's rise."
On a day that mixed high affairs of state with simpler tourism, the president got his only chance to speak directly to the mass of the Chinese people. Alongside Chinese President Hu Jintao, he made televised comments at the end of the two leaders' three hour meeting.
---