China under pressure to play key role at Copenhagen climate summit
China, the largest greenhouse-gas emitter, will not take on emissions caps but has announced its first numerical target. The US and EU are likely to push for more at Copenhagen climate summit.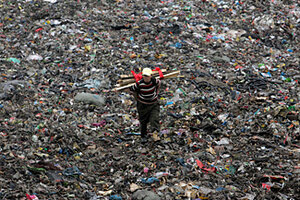 Elizabeth Dalziel/AP
As the world's worst greenhouse-gas emitter, China will be under especially intense pressure at next week's climate change summit in Copenhagen to play a key role in cutting the world's carbon emissions.
Beijing, though, is well prepared to defend its corner, Chinese and foreign experts say, in the expected battle between rich and poor nations over who should do what to avert potentially catastrophic global warming.
The steps it is already taking to reduce emissions, along with a new target-setting pledge to do more, put China in "a unique and convenient position in the slipstream behind the US," says Jørgen Delman, a professor of China studies at the University of Copenhagen.
A bill before the US Congress would cut American CO2 emissions around 6 percent from 1990 by 2020. That is well short both of the developing country demands for a 40 percent cut, and of other developed countries' goals.
China has refused to set any cap on its CO2 emissions; as a developing country it is spared the obligation to do so under the Kyoto Protocol.
Last week, however, Beijing announced a numerical target for the first time: The government pledged to cut the amount of carbon that China emits per dollar of GDP – known as carbon intensity – by at least 40 percent by 2020.
The United States, the European Union, and other developed nations are likely to push for more than that relative goal. After a summit with Chinese leaders this week, Swedish Prime Minister Fredrik Reinfeldt said the EU wanted to know "how it will differ from their 'business as usual' pathway."
---