North Korea admits drastic currency reform, is silent on protests
Reports of protest, violence emerged from North Korea after a drastic currency reform that sets an exchange rate of 1,000 old to 1 new . A North Korean paper in Japan confirmed the reform.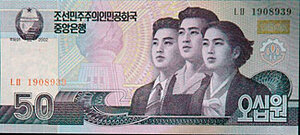 The Chosun Sinbo/Yonhap/REUTERS
North Korea has confirmed a drastic reform of its currency in what's widely viewed as an attempt to control a growing black market and curbing runaway inflation.
Amid recent reports of protest and violence in Pyongyang among members of a small but restive middle class, a North Korean newspaper in Japan on Friday quoted an official with North Korea's central bank as confirming for the first time reports of currency reform instituted early this week.
North Korea's elite – a narrow band of those close to leader Kim Jong-il and his inner circle of family members, top aides, senior members of the armed forces, the Workers' Party, and the government – are assumed to have large caches of foreign currency, dollars, euros, or Chinese yuan. And the vast majority of North Koreans have almost no money of their own. That leaves the middle class feeling the sting the most.
"People are mad at Kim Jong-il," says Ha Tae Keung, head of Open Radio for North Korea, which broadcasts two hours a day of news from Seoul into North Korea. "Suddenly your wealth is gone, and you have nothing. It is very difficult."
The question, he asks, is "whether the protest is organized or random."
'Easier for normal transactions'
---