'Balibo Five' film tests free speech in Indonesia
Defying government censors, activists in Indonesia screened a film last week about the controversial 1975 killings of foreign journalists known as the Balibo Five. Organizers of an annual film festival are contesting the ban.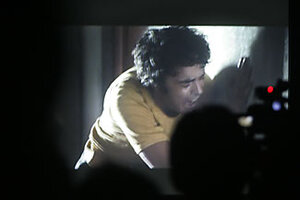 Irwin Ferdiansyah/AP
A movie that depicts Indonesian war crimes in East Timor has become a lightning rod for free-speech activists in Indonesia, who have defied a government ban on its screening.
Last Tuesday, censors ordered the organizers of an annual film festival in Jakarta to yank "Balibo," an Australian movie set in East Timor in 1975 that dramatizes the plight of five slain journalists. Government and military officials have said the film is propaganda and could inflame the public and upset bilateral relations.
But, in a move that underscores Indonesia's still halting democratic transition a decade after it pulled out of East Timor, an independent journalists' association screened the movie last Thursday to a packed audience in Jakarta. And film festival officials say they are trying to overturn the ban and screen it this week.
By defying last Tuesday's ban, officials of the Alliance of Indonesia Journalists could, in theory, face a jail term and/or a large fine. The group has vowed to show "Balibo" in other cities in Indonesia.
Officials say this isn't the first time that the Jakarta International Film Festival (Jiffest) has run into trouble with Indonesia's censor board, a legacy of the country's authoritarian past under US-backed President Suharto. In 2006, five festival films were denied permission to screen. Censors have also ordered cuts to films, mostly for sexual content. Under Suharto, bans on foreign books, films, and periodicals were common.
---