Leading Chinese dissident Liu Xiaobo faces subversion case
Police have presented a subversion case against prominent Chinese dissident Liu Xiaobo, raising the likelihood that he will face trial and then prison. The move furthers China's crackdown on democracy activists.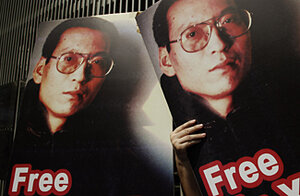 Kin Cheun/AP/File
Police investigators have presented prosecutors with a subversion case against China's most prominent dissident, lawyers for the activist, Liu Xiaobo, said on Wednesday. The move makes it more likely that Mr. Liu will be sent to prison, despite widespread international protests since he was detained without charge a year ago, human rights defenders predicted.
"This significantly reduces Liu's chance of being released," says Nicolas Bequelin, a China analyst with Human Rights Watch in Hong Kong. "It indicates that the decision to bring him to trial has been taken by higher-ups."
Liu's fate also indicates that "the crackdown on human rights defenders … that started in the lead-up to the Beijing Olympics remains at a heightened level," says Roseanne Rife, Amnesty International's deputy program director for Asia. "The danger is now that it has become standard procedure."
Liu, a literary critic and essayist, was detained on Dec. 8 last year, apparently for his role in drafting "Charter 08," a call for greater democracy in China. The charter, signed by 300 people, was published on the Internet two days later, to mark the 60th anniversary of the Universal Declaration of Human Rights. It has since attracted more than 8,000 signatures.
---