North Korea weapons: Why did pilots stop for fuel in Thailand?
Thailand today brought the crew of an impounded cargo plane carrying North Korea weapons before a criminal court. The circumstances of the seizure – like why a plane with illicit arms stopped in US ally territory for refueling – is raising questions.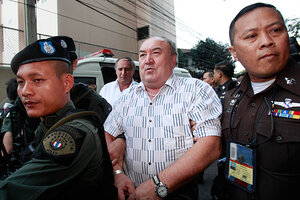 Chaiwat Subprasom/Reuters
The crew of an impounded cargo plane carrying arms from North Korea was brought before a criminal court Monday and ordered to remain in police detention for 12 days, as authorities continue to search their cache.
The cargo plane was grounded Friday after landing at a military-run airport in Bangkok. The air crew, four Kazaks and a Belarusian, claimed they were transporting oil-drilling equipment. Thai police said they had found sealed boxes of rocket-propelled grenades, shoulder-fired missiles, and other small arms.
The seizure marks a blow to North Korea, which is subject to strict UN Security Council sanctions on the sale of weapons. The US accuses North Korea of exporting nuclear technology to countries such as Iran, though no such materiel was found aboard this flight. In June, the UN tightened sanctions on conventional North Korea military hardware in response to its nuclear tests. Under the sanctions, Every UN member state supposed to report any weapons shipments. Thailand's 35-ton seizure is the biggest haul to date.
But key questions remain over what was the final destination of the air cargo and the identity of the buyers, as well as the decision by the crew to refuel in Thailand, a longstanding US military ally.
Cargo destination unclear
Thai police searched the Georgian-registered Ilyushin-76 plane on an initial tip-off from US intelligence. Other foreign governments have also gotten involved in tracking the seized arms, says a Thai intelligence official. "A lot of people are helping us on this one," he says.
---