WTO tells China to share the wealth on Hollywood movies
China must break its government monopoly on distribution rights for Hollywood movies, the World Trade Organization (WTO) ruled Monday. The result could be more money for Hollywood, and eventually, a lifting of the 20-foreign-films-per-year limit.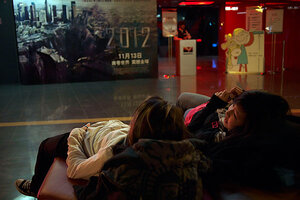 Ng Han Guan/AP/File
With an eye on China's moviegoer, Hollywood got a Christmas present, today.
Cash-strapped American studios are likely to get a greater share of profits from the fastest-growing movie market in the world. Eight years after China joined the World Trade Organization (WTO), the Geneva-based body rejected Monday China's appeal and upheld a decision designed to break Beijing's state control of the distribution of imported films, books, and other copyrighted cultural materials.
The decision comes as multiplex cinemas mushroom in China, anchoring shopping malls selling the consumer culture that Hollywood promotes; and as the swelling middle class stands to get impatient with the limited choice available on their local silver screens.
Movie tickets costing as much as 70 yuan ($10.25) apiece still often qualify as a white-collar date and must compete with readily available, illegal $1 DVDs and free downloadable bootlegs.
To give locally made films a fair shot at growing box office revenues, regulators at China's State Administration of Radio Film and Television have long capped at 20 per year the number of imported films allowed into the country.
That cap won't go away under the WTO ruling, but the official gatekeeper's monopoly will. To get a film shown in China, Hollywood has long had to deal with the China Film Group, the sole state-run film importer and largest film distributor, which divides the country with its state-run cousin, Huaxia Film Distribution.
---