Philippines Mayon volcano eruption: evacuees face a long wait
The Philippines Mayon volcano eruption, expected any day now, could pose lingering danger and keep farmers off their land for months. Many have sneaked back, only to be evacuated again.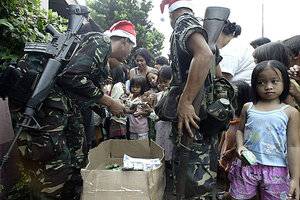 Mike Alquinto/AP
Tens of thousands of refugees from the area around the Mount Mayon volcano face an anxious Christmas in evacuation centers. Their lives are safe, but they can now only watch and pray that an eruption will not destroy their livelihoods.
Residents from the eastern Philippines could face weeks or even months away from their land, leaving their homes unguarded and fields untended. Officials have learned from previous eruptions of Mayon and other volcanoes in the Philippines: A quick return is not the safest course.
"Will this activity last for months? Yes. In 2006, it emitted ash and oozed lava for two months," says Renato Solidum, director of the Philippine Institute of Volcanology and Seismology based in Manila.
Danger could endure for months
For days, volcano has been spurting ash into the air, spewing lava down its slopes, and rumbling audibly. All the warning signs of an eruption are there, but scientists cannot predict when it will occur. Scientists have said the eruption could be hazardous, including pyroclastic flows – currents of superheated volcanic ash and debris that shoot down the mountainside, incinerating everything in their path.
Even after Mayon quiets down, danger may persist. After the most recent eruption, in 2006, refugees returned home thinking they were safe. But soon afterward a typhoon washed volcanic debris accumulated on the mountain down its slopes, creating rivers of mud and rock that killed an estimated 1,000 people.
The authorities said they were striving to complete the evacuation of the danger zone within a five-mile radius of Mayon, and that about 45,000 residents of the zone were now in evacuation centers.
---