Philippines Mayon volcano eruption: a photo op for politicians
Philippines President Gloria Arroyo and two candidates hoping to succeed her next year are visiting refugees ahead of the imminent Mayon volcano eruption, both showing sympathy for the refugees' plight and associating themselves with a smooth evacuation.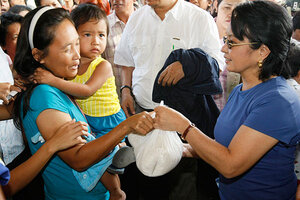 Reuters
With the Mount Mayon volcano in the eastern Philippines showing increasing signs that it could erupt any day now, it has predictably become a magnet for the Philippine and foreign news media – and, less predictably, for Filipino politicians.
With presidential, congressional, and local elections due in May, candidates have been turning the Mayon crisis into an opportunity to show the voting public their generosity towards people displaced by the threat of an eruption, and to associate themselves with a mostly successful operation to evacuate the danger zone.
Journalists have gathered around the volcano as it trembles palpably, belches ash, and dribbles streams of lava down its slopes. Their cameras and microphones are also trained on some 47,000 residents of the danger zone who are now huddled in evacuation centers.
---