Taiwan-China talks hit headwinds
Taiwan and China unexpectedly nixed 1 of 4 deals during economic talks this week. The setback comes as Taiwan's China-friendly government is losing support – and has produced a rap video to try to win it back.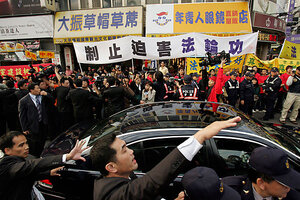 Wally Santana / AP
After a year and a half of ice-melting talks, Taiwan and China have yet to address political issues.
But even less-sensitive economic talks have now hit headwinds – a reminder of how difficult it will be to put aside a 50-year legacy of mistrust between these two longtime rivals.
China sees self-ruled Taiwan as part of its territory, to be reunified, by force if need be.
The two sides signed three new agreements Tuesday, in the fourth round of talks since the China-friendly Ma Ying-jeou took power in May 2008. The deals cover fishing workers, quality control for agricultural products, and standardizing product inspections and certifications.
But Taiwan's representative to the talks complained Tuesday that China has not fully implemented past agreements. And the two sides nixed a fourth agreement on taxation at the last minute.
That raised eyebrows, since such deals are generally negotiated and agreed upon well in advance of formal summits like Tuesday's.
"Sooner or later you're going to see this kind of failure to sign agreements," says George Tsai, a political analyst at Taiwan's Chinese Culture University. "But we were kind of surprised."
Taiwan's government blamed "technical problems" for the impasse, but local media reports suggested that the Chinese side introduced last-minute changes to the deal that were unacceptable to Taiwan.
Opposition to talks mounts
Meanwhile, a revitalized opposition mounted large-scale protests during the talks. It has slammed President Ma for conducting "black-box" negotiations with China that lack transparency and legislative oversight. And it has focused its fire on Ma's next agenda item, a trade deal with China.
---