Suicide bomber strikes northwest Pakistan, but police praised
The second suicide bomber in three days attacked the northwestern town of Peshawar, Pakistan, Thursday, killing four people and wounding at least 20. Amid continued bombings, commentators have praised police for their sacrifice.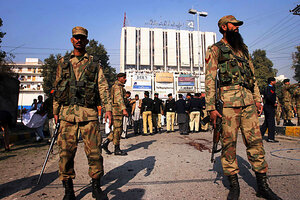 Mohammad Sajjad/AP
A suicide bomber on Thursday attacked a police checkpoint in Pakistan's northwestern city of Peshawar, killing four and injuring more than 20 in the second such strike in Peshawar in three days, even as police ramp up security for the Muslim holy month of Muharram.
According to Agence France-Presse, the suicide bomber's target remains unclear. But Pakistan police are being praised for stepping up security and preventing a higher death toll in this case.
The attack occurred at a security checkpoint in one of Peshawar's busiest areas in an army cantonment outside a government office and a church... "There were several targets," said Sahibzada Mohammad Anis, the top city administration official."It could have been a Pakistan International Airlines building or a Shiite mosque. There are also several shopping malls in this area," he said.
Pakistani officials say the police presence helped reduce the impact of the attack, reports Samaa TV, an independent Pakistani news channel: "Sources said that those killed include 1 police official whereas 4 of the injured are police officials. [DCO Peshawar Sahabzada] Anees said that the suicide attacker blew himself when he was interrupted at the check post..."
Two days earlier, a teenager had killed three in a suicide attack at the Peshawar Press Club – the first such terrorist attack against the Pakistani media.
---