Will the West's criticism of China for jailing top dissident backfire?
The Chrismas Day sentencing of literary critic Liu Xiaobo to 11 years in prison has drawn unusually strong criticism from Western governments, but some experts say that may only result in China taking a harder line.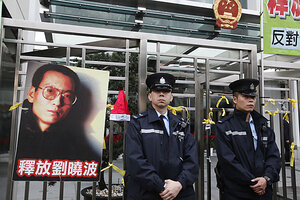 Kin Cheung/AP
China's sentencing of dissident Liu Xiaobo to 11 years in prison for "subversion" signaled a hardening of Communist party authorities who suppressed the news at home over the weekend even as it drew widespread international condemnation.
Mr. Liu was sentenced on Dec. 25, apparently for his co-authorship of Charter 08, a manifesto demanding democratic reform of the one-party state.
The sentencing of the literary critic got wide international news coverage over the weekend and drew unusually strong criticism from Western governments. German Chancellor Angela Merkel expressed "dismay" and the United Nations said the case was "an ominous shadow" over China's commitment to human rights.
Diplomats barred from the No. 1 Beijing Intermediate People's Court on Friday said they were told by Liu's lawyers that, in addition to his 11-year sentence, he also would be deprived of political rights for two additional years.
"We continue to call on the government of China to release him immediately," Gregory May, first secretary with the United States Embassy, told reporters outside the courthouse. "Persecution of individuals for the peaceful expression of political views is inconsistent with internationally recognized norms of human rights."
Some veteran China watchers are concerned that strong public reactions may be counterproductive for Liu considering China's traditional placement of group welfare above individual interest, particularly in times of economic strife and political transition.
"When Chinese feel unsafe, and the government feels unsure of itself, 'shaming' [President] Hu Jintao will result in nothing," Tom Doctoroff, the Shanghai-based Greater China CEO of US advertising agency JWT told the Monitor in a Sunday email. "In Liu's case, back-channel negotiations will be more effective, and attention must be focused on allowing the Chinese side to maintain face in the event of Liu's release."
---