Chinese novelist Mian Mian sues for piracy – by Google
Chinese author Mian Mian – whose works include 'Panda Sex' and 'Acid Lover' – filed the first copyright violation by a Chinese author against Google. She says Google scanned her novel without permission.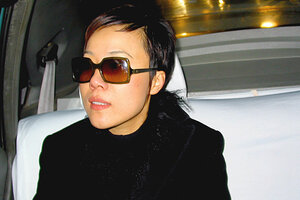 AFP/Newscom/File
The first copyright violation lawsuit filed against Google by a Chinese author points to twists the road to content digitalization may take in the world's most voluminous – and piracy-riddled – book market.
Though China's adoption of e-books is slow, its 570 licensed print publishers still put out around 200,000 new titles a year on paper (on par with US and UK peers). They sell about 6 billion of them annually, making China the world's No. 1 market by volume, and make about $8 billion in 2007, behind only the US, Germany and Japan, according to the Chinese Institute of Publishing Sciences in Beijing.
Though Mian Mian – the Shanghai writer whose 2000 breakout novel "Candy" dragged readers through a sex-and-drugs-addled underworld – is paid little, like most Chinese authors, she's not suing the California-based Internet giant for the money, her lawyer says.
---