Taiwan curbs US beef imports in latest Asia trade frictions
Health concerns and angry protests have prompted partial bans on US beef imports in Taiwan, Japan, and South Korea – most recently by Taipei on Tuesday. The recurring dispute has strained relations.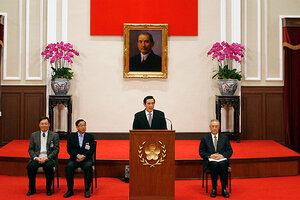 Pichi Chuang/Reuters
Taiwan's restriction of some United States beef imports Tuesday highlights an ongoing source of friction in US-Asian trade relations.
In recent years US beef imports have become a lightning rod in East Asia, due to a potent mix of health concerns, nationalism, and political opportunism.
Beef has become a measure of whether governments are viewed as standing up for citizens' health or buckling to US pressure, says Koji Murata, a political science professor at Japan's Doshisha University.
"For junior partners of the US such as Japan, South Korea, and Taiwan, this issue is a kind of symbol –of course, an exaggerated one – of American oppression," he says.
The move by Taiwan's legislature comes amid fears of mad cow disease, and criticism that President Ma Ying-jeou's government failed to consult the legislature or the public before lifting a partial ban on US beef in October.
The issue has strained Taiwan's ties with the US, even as the self-ruled island moves ever closer into China's economic orbit with a series of cross-strait commercial deals.
Taiwan legislators reached a consensus last week to revise a food law to ban the import of US ground beef, offal, and other beef products seen as posing a greater health risk.
That drew unusually harsh criticism from Washington, which accuses Taiwan of overturning an October deal that was signed after extensive negotiations and study.
---