Why China's unexpected export, import growth is a good sign for others
China vaulted past Germany to become the world's biggest exporter last month as its export, import volume jumped by 18 and 56 percent. The increases are a positive sign for global trade, especially for countries that sell to China.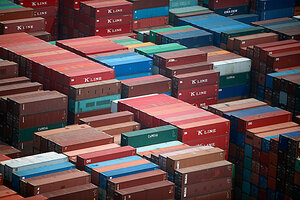 Elizabeth Dalziel/AP/File
China's surprisingly strong export and import performance in December offers further evidence of a global trade pickup, experts here say.
China's December exports rose 18 percent from a year earlier, after dropping for 13 straight months, according to Customs figures. Imports rose even more sharply, by 56 percent.
That is good news for exporters of the sort of raw materials that China is devouring as its economic growth continues to outpace the rest of the world.
Australia, which sells the Chinese steel industry much of its iron ore, saw its exports to Beijing double in December. Chinese iron ore imports notched up their second-ever highest monthly total, and crude oil imports hit a monthly record.
The figures were also encouraging for manufacturers of the machinery that Chinese firms are buying as they channel government stimulus money into investment. Japan, Germany, South Korea, and other Asian countries such as Thailand stand to benefit from China's buying spree.
"It seems very clear that what we are seeing are basically imports of raw materials and capital goods," says Arthur Kroeber, head of Dragonomics, a Beijing-based economics research firm. "These are all investment-related.
---
Follow Stories Like This
Get the Monitor stories you care about delivered to your inbox.