For Google, China remains closed commercially, too
Since launching in 2006, Google's China search engine has struggled to attract users. Homegrown competitor Baidu enjoys twice the US firm's market share.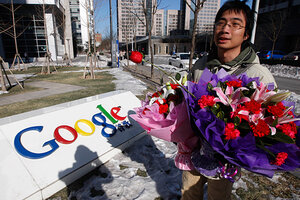 Jason Lee/Reuters
As news spread on the Chinese Internet that Google is threatening to close its Chinese website because of censorship, a band of Twitterers organized a bold show of solidarity.
At lunchtime, a group of them arrived at Google's headquarters bearing flowers, in token of their support for the search-engine giant's stand against government control of the Web.
"Respect Google for: 1) Doing what you should, even if it is not easy. 2) Protecting your heart and your clients," read one tweet.
"There is clearly a constituency that appreciates the message that Google is sending, that it finds the Chinese government's attitude to the Internet and censorship unacceptable," says Rebecca MacKinnon, who is writing a book about the Chinese Web.
It was a rare display of sympathy for a company that has struggled against official and commercial pressure to make Google.cn a success in the four years since it launched.
The Chinese language search engine had a 31 percent share of the market in the third quarter of 2009, the last period for which figures are available, according to the Chinese Internet consultancy firm Analysys. The market leader, homegrown Baidu, had more than double that, with 64 percent.
Criticism from authorities
---