Toyota recall: Chinese see lessons for own firms with tainted products
The Toyota recall has sparked debate among consumers in China – which has taken hits over tainted milk products and toys with lead paint – about how companies should respond. Is Japan's top carmaker putting Chinese firms to shame?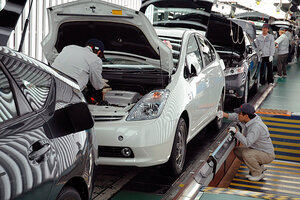 Toyota Motor Corp/Reuters
For once, the tables are turned.
Toyota's recall of 75,000 vehicles from Chinese drivers is a reversal of the normal pattern of unsafe Chinese goods being withdrawn from foreign markets.
And the move, part of a worldwide recall of more than 8 million Toyota cars that might suffer from a jammed gas pedal, has drawn praise from some Chinese Web users who compare the Japanese company's decision with normal Chinese practice.
"How many Chinese companies dare to recall their products?????" asked one.
In recent days, Chinese government quality controllers have found powdered milk on sale contaminated with the same melamine that sickened hundreds of thousands of children last year. Companies forced to withdraw their milk from the market in the wake of the scandal appear simply to have repackaged the poisonous product and put it back on the shelves. They had been ordered to destroy it.
There is no law in China governing product recall, though legislation has been drafted and is currently under study, officials say.
Some comments on Chinese websites were less complimentary to the Japanese auto giant. "Toyota recalled over 5 million vehicles in the world, but only 70,000 in China," pointed out one. "We firmly oppose Toyota's discrimination against Chinese consumers."
---